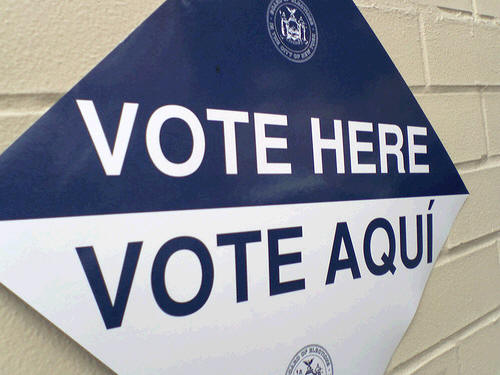 For all of the super-PAC money, the strategists, the pollsters, the "bundlers" and the armies of staffers and supporters that are being organized to influence this November's presidential election, President Barack Obama's reelection campaign and  a Republican Party desperate to defeat him are both blindly committing serious missteps that could end up costing them the White House.
Hispanics make up the fastest growing segment of both the American population and the voting electorate, including soaring populations in key "swing states," but the president and his GOP rivals are in the midst of a gaffe-prone and hypocritical attempt at Latino outreach that has made the support of the nation's largest minority group truly up for grabs in November.
While the political punditry and the mainstream media frenetically talk up the importance of  "soccer moms," "NASCAR dads" and the tongue-twisting "blue-collar white working-class voters" as voter groups that will sway the outcome of the 2012 presidential election, data proves that it is the Hispanic vote that will carry the most weight when Americans fill out their ballots.
Statistical estimates predict that there will be record participation by Latino voters in this fall's election, with 12.2 million casting ballots that will represent nearly 9 percent of the country's total votes.
Latinos will break participation records in next year's presidential election, according to a study released Thursday by the National Association of Latino Elected and Appointed Officials Educational Fund.
The report, presented during NALEO's annual conference, held this year in San Antonio, is a projection crafted using participation data from the last four presidential elections.
About 9.7 million Hispanics cast ballots in the November 2008 election that brought Barack Obama to the White House, compared with 7.6 million who did so in 2004, the study notes.
That participation is increasing and according to the report's projections this will be reflected in the 2012 election, when the Latino vote is anticipated to increase by 26 percent to 12.2 million voters, or 8.7 percent of the country's total.
According to Census Bureau data from the past presidential election, 206 million people had the right to vote, but only 131 million cast ballots.
The forecasts are that California, Florida and Illinois will be the states that will register the greatest increases in Hispanic turnout compared to 2008, above 30 percent, while in California, New Mexico and Texas at least one in every five voters will be Latino.
And that voting base is increasing the fastest in key "swing" states like Florida, Colorado and even North Carolina. Every state is deemed a "toss-up" heading into the general election has seen major spikes in the percentage of Hispanic voters and among the population as a whole.
The sheer avalanche of numbers has fomented greater understanding of the influence and power among the skyrocketing population of Hispanics in America. Time Magazine's most recent cover story is titled "Why Latino Voters Will Swing the 2012 Election," (subscriber-only)  a piece filled with stereotypes but nonetheless important in admitting the role of the Latino vote in who will prevail in this year's titanic presidential contest.
But the numbers and the press and the undeniable shift in America's ethnic melting pot has not stopped Hispanics from being pervasively demonized and marginalized by those in power and the lawmakers increasingly reliant on the Latino vote to keep their jobs or to ascend to higher office. In fact, it can be argued that the national culture has never been more hostile to Latinos than it is today.
Immigration has been the hottest and brightest flash point for controversy, providing a means for lawmakers to play on both economic and societal fears among ordinary Americans to seize a mandate to delegitimize Hispanic Americans. The consequences have been brutal.
The landmark Arizona immigration law, giving state and local law enforcement the authority to stop and prepare for deportation anyone suspected of being undocumented, is currently being challenged by the federal government in the Supreme Court. The Arizona law has provided a blueprint for other states to follow their lead in anti-immigrant excess.
Alabama has since enacted what can be called the "toughest" law targeting immigrants and Hispanics in the country. Deemed by some to have created a "humanitarian crisis," the Alabama law — far more sweeping than Arizona's policy — has literally depopulated most Hispanics from the state, with families pulling their children out of school and workers abandoning harvests in the fields where they toiled for years.
Not just a crisis of humanity, Alabama's economy has collapsed due to the departure of so many immigrants from the state's workforce. Add up the costs of enforcement and unintended economic pain, and the immigration law could cost Alabama tens of billions of dollars every year.
Despite watching the ramifications of extreme immigration legislation in the state next door, lawmakers in Mississippi have just passed an immigration bill modeled after Alabama's. Despite a "small" population of undocumented immigrants in the state, the Republican-controlled legislature and the GOP governor have made anti-immigration legislation a top priority. Critics claim the bill is "ethnic cleansing" that mirrors Mississippi's tragic racial past,
The raft of anti-immigration laws have even led religious leaders to coalesce in opposition to an issue generally seen as popular in conservative circles. Evangelical Christian leaders from across the country have come together to oppose the legislative attacks on Hispanics and immigrants, calling on the nation's leaders to move ahead with "humane" immigration reform.
Sustained assaults on the existence of Hispanic immigrants in states around the country would seemingly provide candidates seeking their support in the fall a plethora of opportunities to stand with America's Latino population and condemn the explosion of legally shaky immigration laws. But in this case, both President Obama and his Republican opponents have actually abandoned a strategy that would be both politically astute and the "right thing to do."
Calls to "build the danged" fence on the border between the U.S. and Mexico and various entreaties to deport all 12 million "undocumented" immigrants in the country have become common refrains on the campaign trail. The currewnt campaign has been nothing short of a rush by all sides to claim the banner of being "toughest" on immigrants and combat the  surge in America's Latino population.
Former Massachusetts Gov. Mitt Romney, the current frontrunner for the Republican presidential nomination, received the prized endorsement of Arizona Gov. Jan Brewer on Sunday before that state's GOP primary.
Brewer, hailed by conservatives for her role in ramming through Arizona's immigration law, announced her endorsement by saying that Romney "would serve America the best" of President Obama or the other Republican candidates.
Arizona Gov. Jan Brewer endorsed former Massachusetts Gov. Mitt Romney on Sunday on NBC's "Meet the Press. "
"I have decided that I'm going to publicly endorse Mitt Romney," Brewer said. "I think that he handles himself very very well, he has that pro-business background, he has that political history, that he would serve America the best of all the candidates."
"I'm going to get out there and work as hard as I know how to make sure he wins Arizona, and other places of our countries to see he wins those places as well" Brewer said.
Brewer said that Romney is "the man that can carry the day," adding, "I think Mitt is by far the person who can go in and win."
Arizona is seen by many analysts as a toss-up state for the November election, and Brewer is obviously a highly unpopular figure among that state's large Hispanic population. Romney's close relationship with Brewer is essentially a write-off of any Latino support in the general election.
Romney's endorsement from Brewer comes after the Massachusetts Republican has publicly cheered Arizona's strict new immigration law. Once seen as a relative moderate on the issue of immigration,
Romney has shifted sharply to the right in his presidential campaign. Romney went  so far as to recently call Arizona's law a "model" for national immigration reform that he would champion as president. Conservatives cheered. Hispanics shuddered.
Mitt Romney called the controversial Arizona illegal immigration law a model for the country, and blasted the Obama administration for challenging it in court.
"I will drop those lawsuits on Day One," Romney said in response to a question on illegal immigration during a GOP candidate debate in Mesa, Ariz. Gov. Jan Brewer, who signed the bill, was in the audience.
"I'll also complete the fence, I'll make sure we have enough Border Patrol agents to secure the fence, and I will make sure we have an E-Verify system and require employers to check the documents of workers," he added.
Missteps and a dedicated strategy by Republicans to ignore the growing Hispanic electorate has not meant that President Obama is "sitting pretty" and will easily claim the vast majority of Hispanic support in the November tilt. On the contrary, Hispanics have become bitterly disillusioned by the Obama administration's lack of interest in issues important to them and pursuing an attitude that smacks strongly of taking the Latino vote for granted against the eventual GOP nominee.
That attitude was on full display just days ago when President Obama, in an interview with Spanish-language radio, dismissed criticism from the Hispanic community over his administration's lack of progress on immigration reform that would combat the rise of strict state-level laws by claiming that he will have "five more years" to produce an immigration bill.
President Obama predicted re-election in an interview this week with Univision Radio, telling a largely Hispanic audience he will use a second term to push comprehensive immigration overhaul.
"My presidency is not over," Obama said when asked about the failure to come up with an immigration bill. "I've got another five years coming up. We're going to get this done."
Obama rejected suggestions that the lack of an immigration bill is a broken campaign promise, saying "we're going to need help from Congress" and Republicans have blocked legislation.
The White House could face blowback over such professions of faith that Hispanics will mindlessly vote en masse for Obama against any Republican challenger. The president's agenda has deeply upset Latinos on many levels.
The most sensitive issue is the record number of deportations that Obama has presided over during his first term, as well as the administration's decision to tout such numbers in a bid to win over independent voters and moderate Republicans who are supportive of such harsh tactics against immigrants.
Aware of the painfully awkward optics of such an issue while simultaneously counting on the Latino vote in November, the White House has specifically tried to "soften" its public stance on immigration and ramp down the number of deportations in the months before the election.
Observers say that strategy hasn't worked, with immigrants without criminal records continuing to be shacked and deported while the Obama campaign insists Hispanics will vote for the president simply because Republicans were behind the laws in Alabama and Arizona.
President Obama's attempt to "soften" U.S. immigration enforcement — in what has been widely viewed as an election-year appeal to Hispanic voters — has so far produced mixed results on both practical and political fronts, according to a new Syracuse University report and anecdotal accounts from immigrant advocates.
In the last three months of 2011, following an administration decision to curtail deportations of illegal immigrants without criminal records and review all existing cases, the number of new deportations has dropped significantly.
……….
At the same time, researchers found "little evidence" that immigrants with criminal records are making up a higher overall proportion of those deported.
"People have heard about these policy changes but largely haven't seen any difference," said Frank Sharry, executive director of America's Voice, a progressive immigrant advocacy group.
Even as the White House projects a public air of indifference towards the consequences of ignoring the concerns of Hispanic voters and the Republican Party sustains its overheated rhetoric on immigration during its presidential primary, real damage may have been done to President Obama's standing  in the Latino community.
Polls among Hispanic voters in swing states has found sharp drops in support for Obama and support for his reelection campaign, with questions over his "leadership" on issues like immigration reform causing the most dismay.
Florida's growing Hispanic community, which now constitutes nearly a quarter of the state's population, holds the key to victory in the upcoming GOP presidential primary and in the November election. A new survey from Resurgent Republic, the polling operation cofounded by former Republican National Committee Chairman Ed Gillespie, found that they have soured on President Barack Obama.
The survey of 500 registered Hispanic voters released Thursday shows that "President Obama continues to underperform among Florida Hispanic voters and has done little to bolster his standing." In fact, he's losing ground, polling 11 points below his 2008 performance on the presidential generic ballot, "which alone is enough to erase his three-point margin of victory over John McCain."
Why is Obama doing so poorly? Respondents in the survey identified weak leadership as one of their concerns, saying the president "has been a weaker leader than they expected" him to be by a margin of 56 percent to 35 percent. An astounding 60 percent said he has "not delivered" on the promises he made to them in the 2008 election while, by a margin of 42 percent to 38 percent, they believe he has "made things worse" for Florida's Hispanic community.
Perhaps the president's biggest problem is, that by more than two-to-one, Florida's Hispanic voters "believe things have gotten worse, not better" for them since Obama took office. Only 5 percent said things had improved while 40 percent said they have stayed about the same.