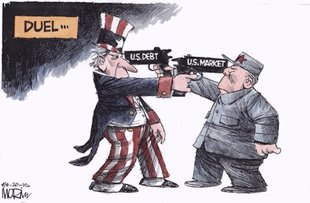 Various commentators on Asian affairs comment on the possibility that both the U.S. and Chinese governments are engaged in actions of belligerence toward one another to divert publics in both their countries from failures of domestic economic policies. Filipino Asian expert Walden Bello agrees with this assessment as far as U.S. foreign policy is concerned, seeing the "pivot" as a cover for the failure of U.S. intervention in the Middle East, to help appease war-hawk cries for assertion of U.S. imperial power and distract people from concerns over economic problems. Where China is concerned, Bello sees some of that same classic "wag the dog" strategy of using "successful" foreign military operations to mask failures of domestic ones. Still, Bello feels, there is more of substance to the regional aggressiveness of China, as greater control over the region's natural resources is being sought.
(Asia Times)
`
Arthur Silber reflects on the burning death of Christopher Dorner and finds it all-too-similar to other "burnings" by other police and military authorities as extra-judicial killings of people who happen to get in the way of stopping the truly "bad guys," whether the bad guys happen to be Iraqi insurgents or (as with Dorner) two women who were delivering the LA Times and were "accidentally" fired upon when the police mistakenly thought they were connected with Dorner. No, we don't burn people at the stake, we just burn cop-killers on national TV and don't worry that much about the "collateral damage."
(Power of Narrative Blog)
`
New Hampshire legislature passes a bill to provide immunity from liability for the use of stolen guns from their rightful owners. Proponents say: what good is a gun for self-protection if they have to leave their guns locked up securely at home? Opponents say there is no evidence that maintaining security of gun possession has resulted in anyone being denied the opportunity for self-defense.
(WCAR)
`
In a program begun with Homeland Security grants to cities for anti-terrorist surveillance, Seattle is moving to use more of the cameras in areas in which non-terrorist kinds of crime are prevalent. Officials discount the privacy concerns of citizens by saying the cameras will "electronically black out" homes and offices, and anyway, only police agents will see them and the pictures will be retained for only a month. Did we mention that these assurances are given despite the fact that the new cameras are not yet operational but will be "tested" for several months? So let crimes (and the office hanky-panky) continue.
(KING TV)
`
The typical "beat the ban" mentality is producing this upsurge in sale of guns of a type which may shortly be banned. The state of Florida, with its NRA-happy legislature and governor, has been ground-zero for gun sales and use in, for example, the state's "stand your ground" permission for lethal aggression.
(Miami New Times)
`
……………………………………………………………………………………………………………………………………..
Quote of the day…
If we can get Iran's cooperation by merely lifting some sanctions—sanctions that aren't exactly helping our aims in Iran anyway—why are some still holding out and considering thedisastrous military option? A military strike is not really a credible option. It would be a foolish and counterproductive action as it would likely lead to Iran kicking off a full-blooded nuclear weaponization effort, just as Saddam's Hussein did after Israel's attack on the Osirak plant in 1981.
Yousaf Butt, in advocating that West make a "serious offer" to Iran to settle controversy over its alleged nuclear development.
……………………………………………………………………………………………………………………………………..
`
 Do you receive the daily headlines in the form of an early-morning e-mail? If you don't and you would like to receive them, just send a note to sunstateactivist2@yahoo.com and you'll be enrolled in the "Progressive breakfast club."
`